Newnan Traumatic Brain Injury Attorney
Severe traumatic brain injury (TBI) can have serious consequences for victims and their families. If you or your loved one has suffered TBI through the negligence of another, contact Kam, Ebersbach & Lewis, P.C. Our Newnan traumatic brain injury attorneys will provide dedicated legal assistance in a claim for compensation.
Why Choose Our Firm?
At Kam, Ebersbach & Lewis, P.C., we represent people who have been injured through no fault of their own.
We give dedicated personal attention to each of our clients, ensuring that all their legal needs are met.
Our Coweta County personal injury attorneys have won seven out of 10 of the largest auto collision recoveries in the county.
We operate on a contingency-fee basis, meaning you pay us no legal fees until we settle or win your case.
Why You Need a Traumatic Brain Injury Lawyer
A traumatic brain injury can have life-altering consequences, with the potential for a lifetime of medical bills and difficulties as a functioning member of society. If you have suffered such an injury, it is in your best interest to contact our team of personal injury lawyers in Coweta County. We will protect your rights and fight for the compensation you deserve.
What Is Traumatic Brain Injury?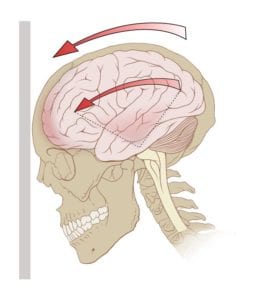 Cedars-Sinai Medical Center states that a traumatic brain injury (TBI) is caused by a blow or jolt to, or penetration to the head. It often results from a violent blow or jolt to the head or body. An object that penetrates the skull, such as a bullet, can also cause traumatic brain injury.
Symptoms of Traumatic Brain Injury
Moderate to severe TBI can cause dramatic physical and cognitive or mental symptoms, including:
Loss of consciousness
Headache that persists or worsens
Convulsions or seizures
Nausea or vomiting
Loss of coordination
Profound confusion
Slurred speech
Combativeness, agitation, or unusual behavior
Coma and consciousness disorders
Common Causes of TBI:
The severity of the damage can depend on the force of impact and the nature of the injury. Common causes of traumatic brain injury include:
Falls: Slip and fall accidents or falls from heights are the leading cause of traumatic brain injury overall. TBI caused by falls is particularly common among children and older adults.
Motor vehicle accidents: Traffic crashes involving cars, trucks, motorcycles, bicycles, and pedestrians are a common cause of traumatic brain injury.
Violence: Gunshot wounds, domestic violence, child abuse, and assaults are common causes of TBI.
Sports injuries: Injuries sustained in football, soccer, baseball, boxing, skateboarding, hockey, lacrosse, and other high-impact sports can cause traumatic brain injuries.
Explosive blasts: Explosive blasts are a common cause of TBI among military personnel. Traumatic brain injury may also be caused by blows to the head with shrapnel or debris, penetrating wounds, and falls or collisions with objects after a blast.
Damages You Can Claim
If someone else's negligence caused your traumatic brain injuries, you should be able to recover compensation for your personal injuries. Damages may include past and future medical expenses, lost wages, loss of earning capacity, pain and suffering, emotional distress, and other tangible and intangible losses.
Contact Kam, Ebersbach & Lewis, P.C.
If you or a loved one has suffered TBI through the negligence of another, contact our Newnan personal injury attorneys at Kam, Ebersbach & Lewis, P.C. to schedule a free consultation. We are tough advocates for our clients. Focus on recovering from your injuries and allow us to regain closure that you deserve.