Client Reviews
"Brian was an excellent attorney. He was very detailed and always returned my calls. I highly recommend him."
J. Zamora
"Had an awesome experience with this firm! Randy and everybody in the office is very welcoming and attentive to your needs!"
A. Palomera
"So friendly and personable! It was so nice having a family help me when I was in need! So professional...Thank you, John and family!"
E. Lange
Why choose our law firm?
Local Attorneys
As former prosecutors and insurance defense attorneys, our lawyers have worked both sides of the courtroom and are familiar with all courts throughout Newnan, Coweta County, and Metro Atlanta. We give you the advantage of time-tested legal strategies and practical experience.
Personal Attention
Our firm has obtained seven out of ten of the largest personal injury settlements/verdicts in Coweta County history. Judges, fellow attorneys, medical providers, and police officers often refer cases to us due to our proven track record of success.
Unmatched Results
With more than one hundred years of combined experience, our seasoned legal team provides reliable guidance and aggressive litigation tactics to protect your rights and maximize your recovery.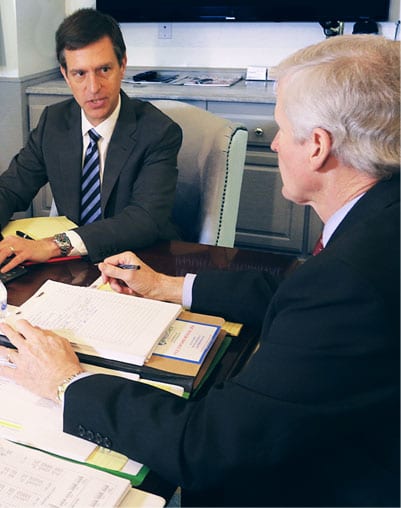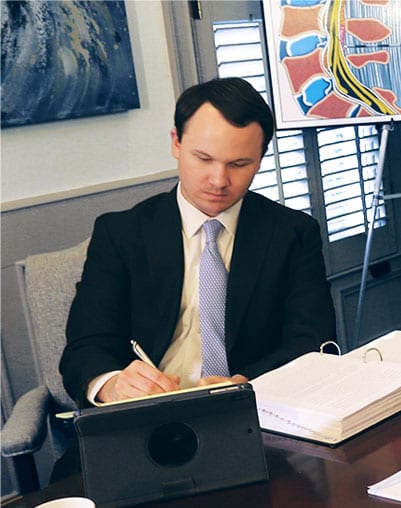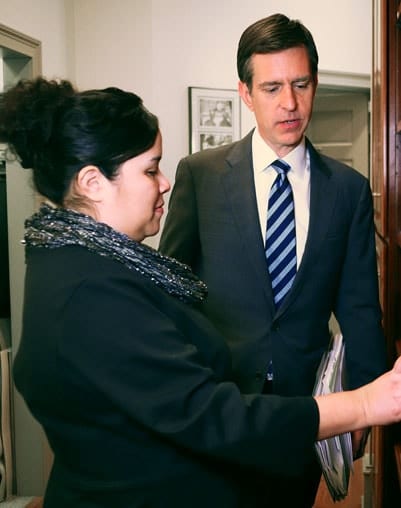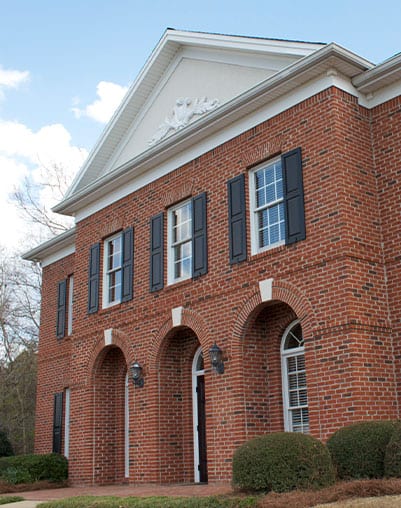 Newnan Personal Injury Attorneys
Experienced attorneys serving Newnan, Coweta County, and Metro Atlanta
Kam, Ebersbach & Lewis, P.C. provides tenacious legal representation for the toughest personal injury, wrongful death, workers' compensation, and criminal cases in Georgia. While other firms make promises, we deliver results that no other Coweta County law firm can match. Our attorneys have more than 100 years of combined experience, so we know the law and the local court systems throughout Metro Atlanta and Midwest Georgia. This enables us to take on cases that general practice lawyers and smaller firms lack the experience and resources to pursue.
Kam, Ebersbach & Lewis, P.C. has a proven track record in injury cases in Coweta County that separates us from other legal practices. The attorneys at Kam, Ebersbach & Lewis, P.C., have achieved what was, at the time, the largest Nursing Home Negligence verdict in the State of Georgia; the largest personal injury (non-wrongful death) verdict in Coweta County; the second largest personal injury (non-wrongful death) verdict in Coweta County; and 7 of the 10 largest injury verdicts and settlements in Coweta County, Georgia according to verdicts and settlements databases.
Proven and trusted legal service for civil and criminal matters
Our attorneys represent people in crisis. Our firm offers:
Experienced representation — When it comes to personal injury lawsuits and criminal law defense, experience really does matter. And our experience is unique in the legal industry. Having worked in both plaintiff AND defendant venues gives us the edge over law firms that have not.
Exceptional achievement — Our law firm is made up of trusted legal professionals. We are involved in our community and are well known in and out of the courtroom. Other community professionals come to us when they need representation for themselves or their loved ones because they know we are committed, dedicated, and successful attorneys.
Extensive knowledge — If you have been injured and need to file a claim, or you've been accused and need an advocate in your corner, nothing beats a legal team that not only knows the law but is willing go to bat against big insurance companies or state or local prosecutors.
Whether your trouble has come from an accident or an arrest, we are your voice in the justice system, and we fight hard to deliver the best outcome possible. Whatever your legal dilemma may be, our goal is to provide excellent representation that delivers positive results.
Let our skilled Newnan trial lawyers handle your injury claim or criminal defense
If you're seeking compensation for your injuries or a comprehensive defense for your criminal charge, our responsive attorneys at Kam, Ebersbach & Lewis P.C. can help. Contact us today online or call us for a free consultation at (770) 251-7100. We proudly serve all of Coweta County, Newnan, and the Metro Atlanta area.
$7.25M
Verdict
Motor Vehicle Accidents
$7,250,000 verdict in Coweta County against a drunk driver who caused a wreck that caused our client to become paralyzed below the waist.
$4.25M
Settlement
Motor Vehicle Accidents
$4,250,000 pre-suit confidential settlement for the wrongful death of an elderly man.
$3.3M
Verdict
Medical Malpractice/Nursing Home Negligence
$3.3 million verdict against a nursing home for repeated abuse of elderly nursing home resident — the largest nursing home abuse verdict in Georgia at that time.
$3.25M
Settlement
Motor Vehicle Accidents
$3,250,000 settlement against insurance companies for claims they denied during five years of litigation.
$3M
Verdict
Motor Vehicle Accidents
$3,000,000 verdict for injuries received by a woman as a result of road rage by a tractor-trailer driver.
$3M
Settlement
Motor Vehicle Accidents
$3,000,000 confidential settlement for wrongful death caused by an auto accident; the insurance company paid over 100 times above policy limits.
$2.5M
Settlement
Auto-related wrongful death.
A family who was struck by a tractor-trailer truck tire when it came off a truck, crossed through the median and struck their vehicle causing injuries and a fatality.
$1.75M
Settlement
Motor Vehicle Accidents
$1,750,000 settlement for the wrongful death of a woman caused by a tractor-trailer; the trucking company disputed liability.
Full-service representation for a wide range of practice areas
Whatever the nature of your case, you can rely on our exceptional legal services and advocacy skills to defend you. We handle civil and criminal cases in the following practice areas:
Personal Injury — We provide aggressive representation for injured plaintiffs in car accident, truck accident, product liability, and premises liability cases. Our personal injury attorneys are extremely knowledgeable about insurance industry litigation tactics and employ proven strategies to deliver positive results.
Workers' Compensation — Our firm represents injured employees in workers' compensation claims throughout all venues in Georgia. We fight for you to ensure access to doctors, commencement of income benefits, permanent disability benefits, and lump sum settlements.
Criminal Defense — We defend accused clients charged with offenses ranging from assault to theft, from drug charges to probation violations. Our criminal defense attorneys are active rather than reactive, challenging the authorities to prove every aspect of their case.
Wrongful Death – Our firm represents families who have tragically lost a family member due to the negligence or carelessness of others. Whether your family is faced with tragedy resulting from a motor vehicle accident, dangerous premises, defective product, negligent security, or any other avoidable cause, you can trust our attorneys to effectively pursue and obtain civil justice on their behalf. We have more experience litigating wrongful death cases than any other firm in Coweta County.
All our attorneys possess a deep understanding of the law, an extensive set of valuable legal experiences, and a dedicated approach to resolving your car accident or criminal case.
Our experienced Georgia attorneys advocate for you
Prepared to fight for the legal outcome you deserve
It can often feel like David going up against Goliath if you or your family member are injured or killed by someone else's negligence. We understand the emotional toll an injury or wrongful death can place on you and your family. Most often, our clients first want answers; why did this happen? Could it have been avoided? At Kam, Ebersbach & Lewis, P.C., we employ proven investigation, litigation, and discovery tactics to get you the answers and the compensation you deserve. Our Newnan personal injury and wrongful death attorneys possess a deep understanding of the law, an extensive set of valuable legal experiences, and a dedicated approach to obtaining full justice for our clients by maximizing your monetary recovery in your personal injury or wrongful death claim. Our attorneys are proven in the courtroom with more than 100 years of combined trial experience throughout Metro Atlanta and Midwest Georgia.
Personalized legal representation for each client
We know how scary it can be to deal with litigation or the criminal justice system, especially if you do not have representation or can never get in touch with your lawyer. Our car accident attorneys are accessible: we always make ourselves available for your calls and consultations. This allows us to stay a step ahead and treat each case as if it is going to trial. While we are prepared to do battle in the courtroom, we also employ all reasonable means of resolution, including negotiation, mediation, and arbitration.